Leadership Tomorrow
Leadership Unlimited's flagship program, Leadership Tomorrow, enhances community leadership by providing an educational program for individuals with diverse backgrounds and experiences who demonstrate leadership ability and commitment to the community.
Each of the nine monthly sessions, from September to May, is dedicated to a specific aspect, including:
Understanding your thinking and behavioral preferences
Discovering Our Community/Choosing to Lead
Economic Development/Fueling the Economic Engine
Community Needs/Volunteer Leadership/Media Relations
Community Investment/Diversity
State Government
Crime & the Criminal Justice System
City/County Government
Preparing Today's Workforce
CORE COMPETENCIES
For a successful experience within Leadership Tomorrow programming, the ideal candidate:
•    Is intrinsically motivated. - An individual operating with intrinsic motivation, rather than extrinsic motivation, is moved to act because of their personal interests and curiosities, rather than external rewards, pressures, or influences.
•    Is curious and inquisitive. - A curious person will understand the value of an opportunity to learn; and to be inquisitive is to be willing to ask questions, discuss ideas, and explore those learning opportunities.
•    Has a desire to lead within the community.-  A person with an interest in community leadership will be receptive to leadership skills development, exposure to area businesses and organizations, community education, and project participation.
•    Conducts themselves ethically and with integrity. - By handling challenges and opportunities ethically indicates a sense of honesty, responsibility, and equity; and to act with integrity is to have strong moral character, no matter who's watching.
•    Is intellectually capable and agile. - Intellectual capability indicates a readiness to comprehend and discuss concepts; and to be mentally agile is to actively listen to various input and perspectives, maintaining the ability to be flexible and open to new ideas.
 
Each of the bolded words below is a clickable link. 
Know someone that should be in Leadership Tomorrow? Nominate them!

APPLICATION FORM

Interested in being a part of the next LT class? Applications are open in January and will be due on March 1, 2024.

It is recommended to type out your essay responses in Word or other typing software before pasting them into your application. Your application score is soley based on your responses to these questions.

Applicants for the Leadership Tomorrow program must have the support and commitment of their employer. This completed commitment is required for the applicant to be considered.

Partial scholarships are available. Please submit this scholarship application with your application to the program.

Roster for Class 37. To see rosters from previous classes visit the alumni database on the Alumni Directory page.

CURRENT CLASS ROSTER

Leadership Tomorrow Class #37

 

                                     

                                    Riley             Baasch                        John Baasch Auger Flighting                                   

                                    Kyle              Boysen                        Amur Equipment Finance

                                    Rachael        Buck                            Bosselman Energy, Inc.

                                    Cassie           Casares                       Unity Eye Centers  

                                    Marissa        Cornelius                    YWCA of Grand Island

                                    Katie             Coufal                         Union Bank & Trust

                                    Mirta            Delgado                      Five Points Bank

                                    Curtiss          Dill                               Goodwill Industries of Greater Nebraska

                                    Jen                Figueroa                      Hope Harbor

                                    Betsy            Foltz                            Grand Island Physical Therapy

                                    Nelly             Fry-Venegas                Chief Carriers    

                                    Laura            Gamboa Urrego          Multicultural Coalition  

                                    Casondra     Gustin                         GIX Logistics, Inc.

                                    Christine      Haba                           Central Community College

                                    Ryan             Hanousek                   CNH Industrial

                                    April             Jilg                               Equitable Bank

                                    Mikaela        Keene                          Roe Buick/ Roe Chevrolet Buick, Inc.  

                                    Zach             Mayhew                      Hornady Manufacturing

                                    Kelli              Mayhew                      Grand Island Public Schools

                                    Maggie         McDermott                 EmpowerMe Wellness

                                    Kelsey           Musich                        Amur Equipment Finance

                                    Cora             Njuguna                      Zabuni Specialty Coffee Auction

                                    Jeremy         Ross                            Heartland United Way  

                                    Vince            Ryan                            Northwestern Mutual

                                    Teshawna    Sawyer                        Willow Rising

                                    Schuyler       Sharp                          Contryman Associates, PC

                                    Michelle       Simmons                     Grand Island Public Schools

                                    Liza               Thalken                       Central District Health Department

                                    Mitchell       Thompson                  Live Well Physical Therapy

                                    Jason            Tomjack                      Eakes Office Solutions

                                    Kipp              Williams                      Chief Buildings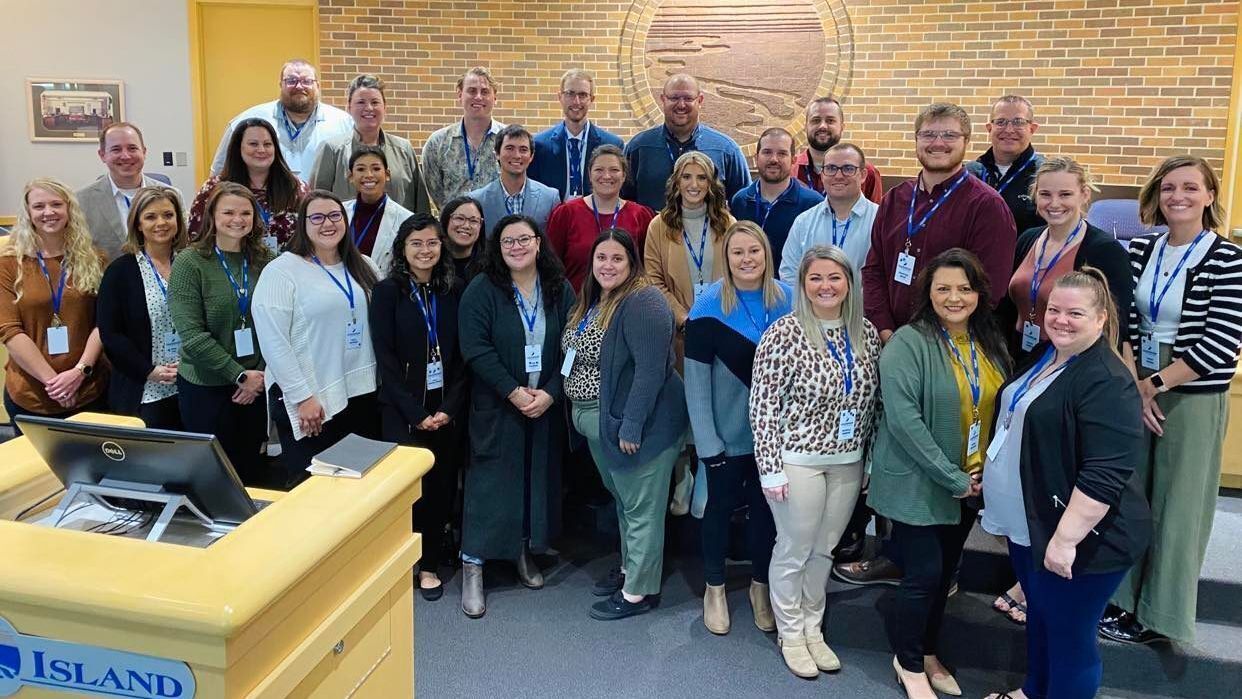 During these day-long sessions, participants have the opportunity to visit facilities across the community, to meet and interact with community and state leaders, to study community issues, and to decide how they will work to make the area a better place to live.
A key objective of Leadership Tomorrow is to provide a foundation for class members to identify their goals and to prepare and motivate them to help shape the future of Hall County.
In addition, class members have the opportunity to interact more informally with community leaders during small group focus luncheons.
The nine-month program provides training for leaders in the following areas:
Team building
Communication
Facilitation
Time Management
Collaboration
Visioning
Personal mission and goal setting
Boardsmanship/Trusteeship
Parliamentary procedure
Running a meeting
Conflict management
Consensus building
Experiential learning cycle
Servant leadership
Fund raising
Customer service
Media relations
Networking
Leadership styles
Program Details
Tuition for the program is $1,200 per participant. Partial scholarships are available to those who show need. Please submit your scholarship application with your application to the program. Need for scholarship is not a factor in class selection. All application information is kept confidential and selection to the program is made "blindly" meaning those who review applications do not know the name or any demographic information about the application they are reviewing.
Requirements to graduate from the program include:
Attending nine full-day sessions September through May (participants who miss more than two session will be withdrawn from the program)

Sessions are generally the second Thursday of the month

Attend a minimum of nine Focus Meetings
Participate in a class project
Participate in a class fundraising project
Upon completion of the program, participants are expected to seek roles of responsibility within their professional career and within Hall County for the betterment of the community.
There is no age requirement for this program.